Oh dear God in Heaven, the woman makes me tremble…..in more ways than one. Not only is she is a performing powerhouse, but she will make you piss your pants laughing. Please stand up and offer a round of applause to this week's Woman of the Week LADY RIZO.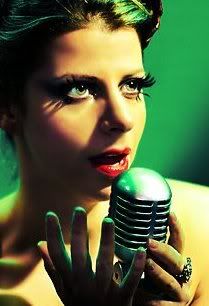 Your Name and/or Your Business Name: Lady Rizo (aka Amelia Zirin-Brown)
What you Do: Cabaret Superstar — Comedienne, Chanteuse, Producer, Director, Actress Performing Artist, Songwriter.
What you love about women entrepreneurs and/or artists: I love the bravery it takes to follow a life that is not written, or supervised. I am very drawn to other women artists & entrepreneurs because they have the ambition to ask questions of the world and respond to them. Even with the journey women have taken in the last century we still have a long way to go, baby. It takes courage to offer the world more than personal beauty and motherhood- and often add those things to the mix as well. The world needs more feminine energy to survive and it will only get out there with these risk-taking chicas!
One thing you love about your business or your life: Plain and simple: I love to perform, I am a born entertainer. But what is so fun about Lady Rizo is I get to feel oh-so glamorous nightly. I have gowns, feathers, jewels, big hair & lashes –all the delicious trappings you'd expect from a diva chanteuse. Using the external adornment helps to express an inner joy and inspire those that come to the show to savor the juicy loveliness of life. Man, woman, gay, straight–everyone can feel like a little like a queen –or at least that they are in the presence of one.
Your web site: ladyrizoandtheassettes.com
Come to a show! My yearlong residency at the esteemed Joe's pub continues.
Fri. June 25 at 9:30
Fri. July 23 at 9:30
Fri. August 20 at 9:30
Fri. September 25 at 9:30
Fri. October 22 at 9:30
Fri. September 19 at 9:30
Justine on Why She Loves This Woman of the Week:
I first became acquainted with Lady Rizo last year at a swank little spot called The Box; she graciously agreed to perform for our mutual friend's birthday. When Rizo got on stage bedazzled in a sparkling floor length dress, licked the face of a fellow performer, and then proceeded to do both a hilarious and amazing rendition of Poker Face ala Lady Gaga I fell in love.
Then, on a whim, I bought tickets to her full length 2010 Valentine's Day show, with the Assettes, and hot DAYUM was it insanely fabulous. Every.single.performer. was fantastic to watch. This Lady's talents don't end I tell you! Her voice, her perfect comedic timing, her eye for good staging and art direction kept me grinning the entire time like a prepubescent boy who just got caught looking at something slightly naughty. I am completely convinced it was one of those moments in my life when I will be able to look back years from now and say (insert feeble, old, crotchity voice here) "Sonnny, when I was young I saw Lady Rizo at this small venue in New York and you MISSED IT!"
At least for me, I can't help but adore someone who is both passionate, yet playful around their art form. She loves performing and it really shows in every which way. Please – no perpetually grouchy and melancholy artists thankyouverymuch (although an occasional bad mood is permissible).
Seriously, do yourself a favor and go to one of her shows. There is one this Friday and she has a year long residency at Joe's Pub in NYC. Or hell – why not come and buy me a BIRTHDAY DRINK and come to her show on October 30th. Do you think she will sing Happy Birthday to me? Perhaps dressed up like Marilyn Monroe? Ooooo a girl can dream.